Product Overview
MultiEye represents a new type of sensor: a central body and satellite cameras. It can be composed of up to 3 cameras and in this way you can benefit from a 360 degree monitoring coverage. This feature makes it more performant, but customizable according to your business needs.
It is an A.I. intelligent HD visible sensor that increases the area coverage and IR Illumination. The camera allows you to reach a very large area and have no blind spots. The infrared gives clear visibility in dark places as well as at night, such as the entry and exit points of parking areas. MultiEye is compatible with 5G cellular antennas that quickly transmit collected data, handled in Edge Computing. It is embedded by Coral from Google.
It can track multiple objects and events to give detailed information to different market segments. It is designed to enhance safety in Intelligent industries, monitor urban areas and improve customer experience and in store-operations in retail. It offers data collection and detailed insight to make these areas safer and more efficient.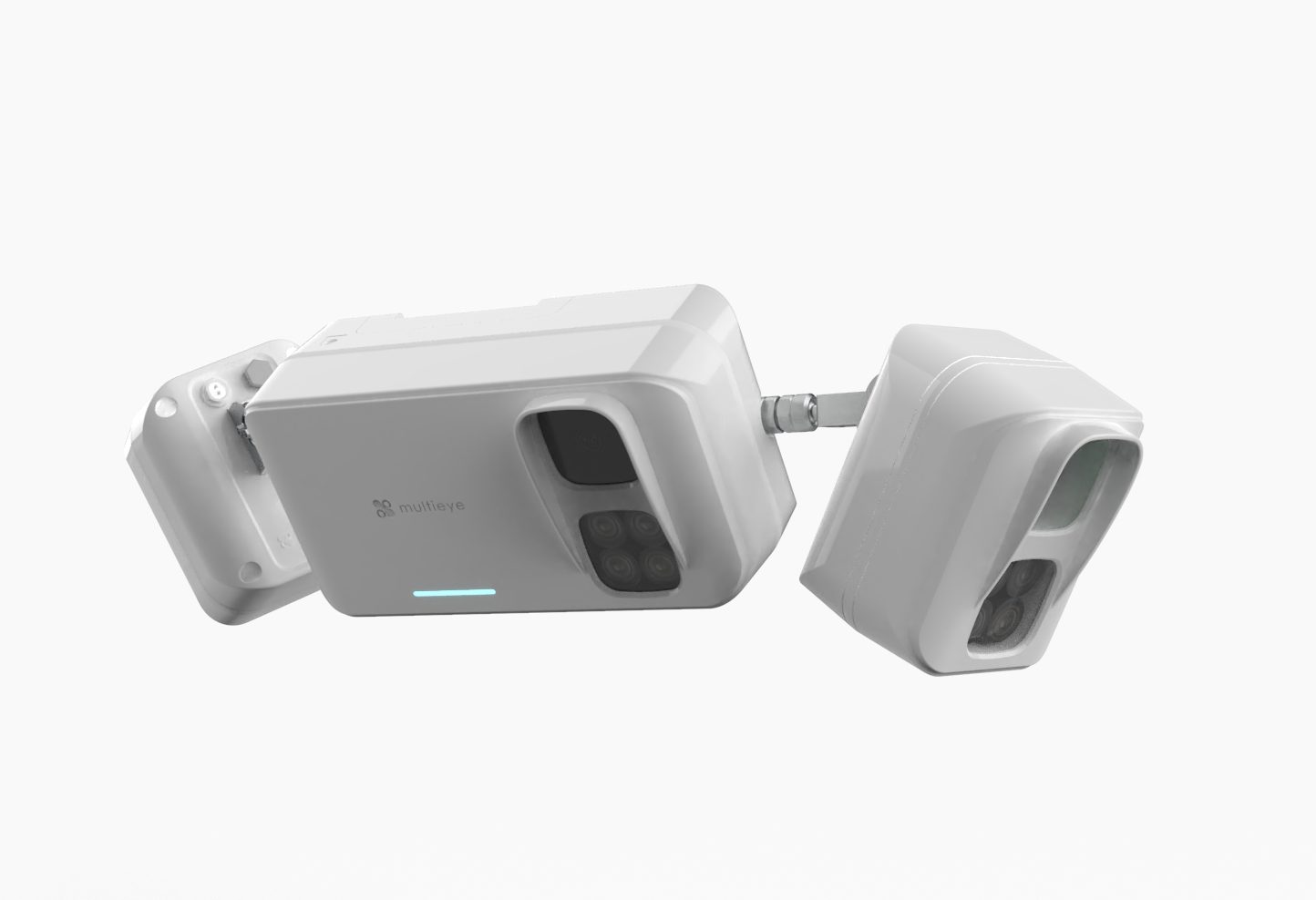 Application Areas
| | | | | | |
| --- | --- | --- | --- | --- | --- |
| | Intelligent Industries | | Smart Cities | | Smart Retail |
 360° Area Coverage

---

This new feature allows for extended visibility and greater accuracy in any scene. Thanks to expandable satellite cameras, incorporated with IR illumination, it minimizes blind spots, even in the dark, for enhanced security.
Modular Cameras

---

With up to 3 cameras, we offer the Client customization and scalability of the solution. MultiEye consists of three cameras: the central body, where video processing and network communication takes place, and the two satellite cameras, which provide 360-degree coverage.
 5G Connectivity

---

The compatibility of our video sensors with 5G cellular antennas enables fast information transmission capability. It is useful for improving the efficiency of our smart services for cities, industries and retail.
Stereo View

---

It is possible to view objects through any stereo pattern. The camera allows it to reach a very large area and have no blind spots, thanks to 360 area coverage and IR Illumination.
 Artificial Intelligence

---

We provide innovative and smart services that mix data with advanced algorithms. In this way, video sensors can automatically learn data features and provide excellent results to our Clients.
 Video Analysis

---

Smart-I products enable innovative solutions for video analysis thanks to the advanced Artificial Intelligence module. In fact, they can analyze, detect and alert in case of anomalies.
Edge Computing

---

A different, high-performance way to handle data is through Edge Computing. We process data directly inside our sensors, minimize latency and increase data protection. Our edge computing solution is embedded by Coral from google.
Personal Protection

---

To ensure the health and safety of people, these services allow for the detection of people, the necessary social distance between them and the proper use of masks.
AI Surveillance

---

More than just video surveillance. In crowded areas or areas where personal safety is at risk, it is possible to detect people, identify intruders in sensitive areas and take immediate action.
Road Safety

---

Our advanced products can detect sudden scene changes. In case of abnormal parking, illegal vehicle overtaking and illegal U-turns, notifications will be sent to facilitate immediate action.
Risk Detection

---

Having a safety program in industries is now more critical than ever. Continuous analysis of the plant and detection of hazardous and damaging events are crucial to increased industrial safety.
Transport & Mobility Analysis

---

Our video sensors can automatically read and recognize the license plates of cars, motorbikes and various vehicles. This type of information is useful in numerous applications, such as automatic toll collection.
Traffic Pattern Prediction

---

It analyzes traffic volume, classifies vehicles in order to provide optimized data about travel time prediction.
Retail Management

---

These smart services provide retailers with new tools to learn about their customers' behavior and create amazing and new shopping experiences for them.
Downloadable Contents
MultiEye Flyer