Product Overview
Cyke offers an extended analysis of the surrounding environment thanks to an enhanced infrared night lighting system and an integrated GPU that allows the processing of data by the AI even faster.
Thanks to deep sound analysis, Cyke is able to recognize and notify environmental events such as sirens, explosions, firearms and help requests. It is a sensor with a high sensitivity microphone that can detect different sound patterns and extend the performance of video analysis with benefits of the sounds. By monitoring the crowded areas, Cyke is able to ensure the highest level of protection against suspected high-risk events in public places such as ports, airports, railway stations and shopping centers.
Application Areas
| | | | |
| --- | --- | --- | --- |
| | Intelligent Industries | | Smart Cities |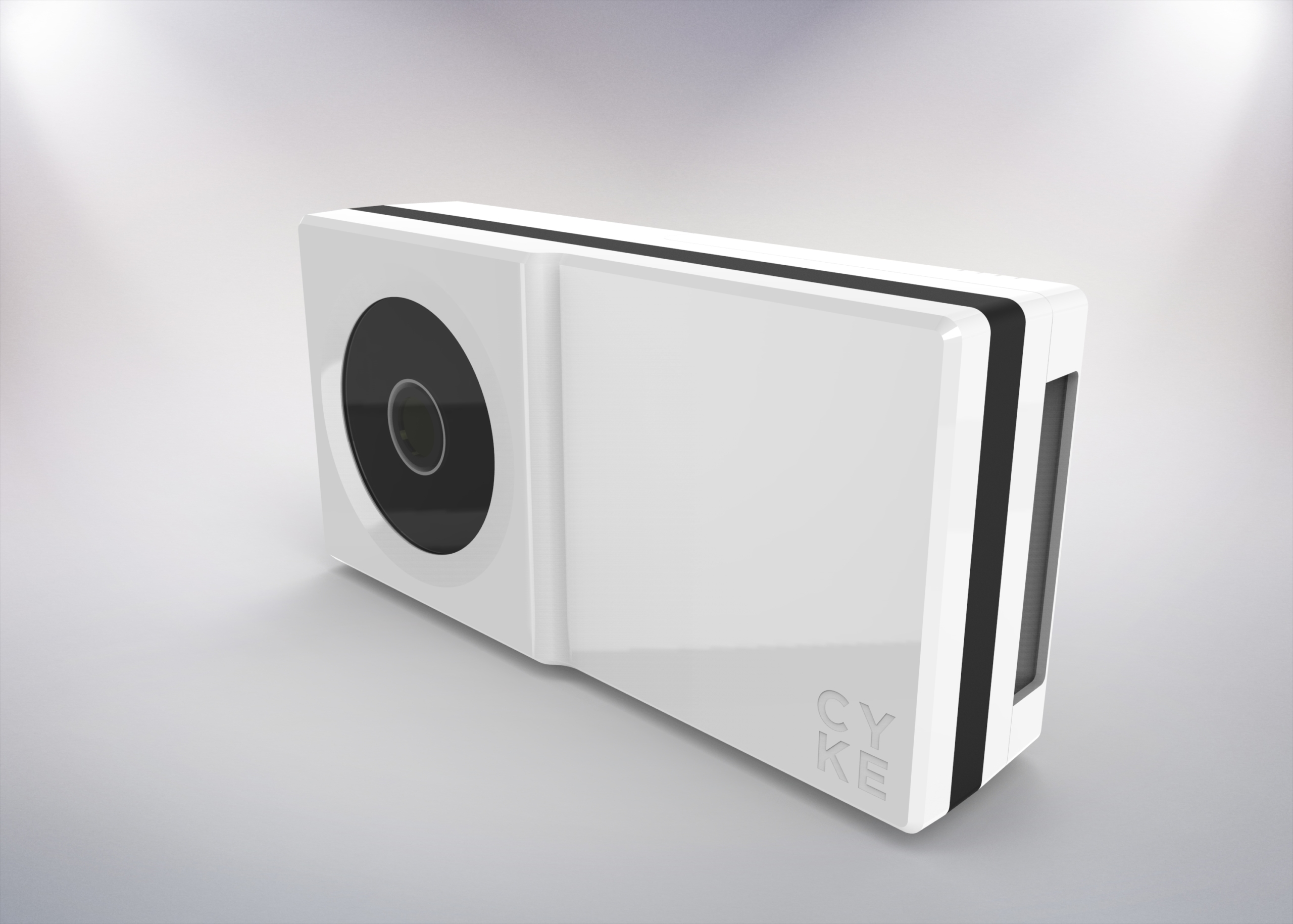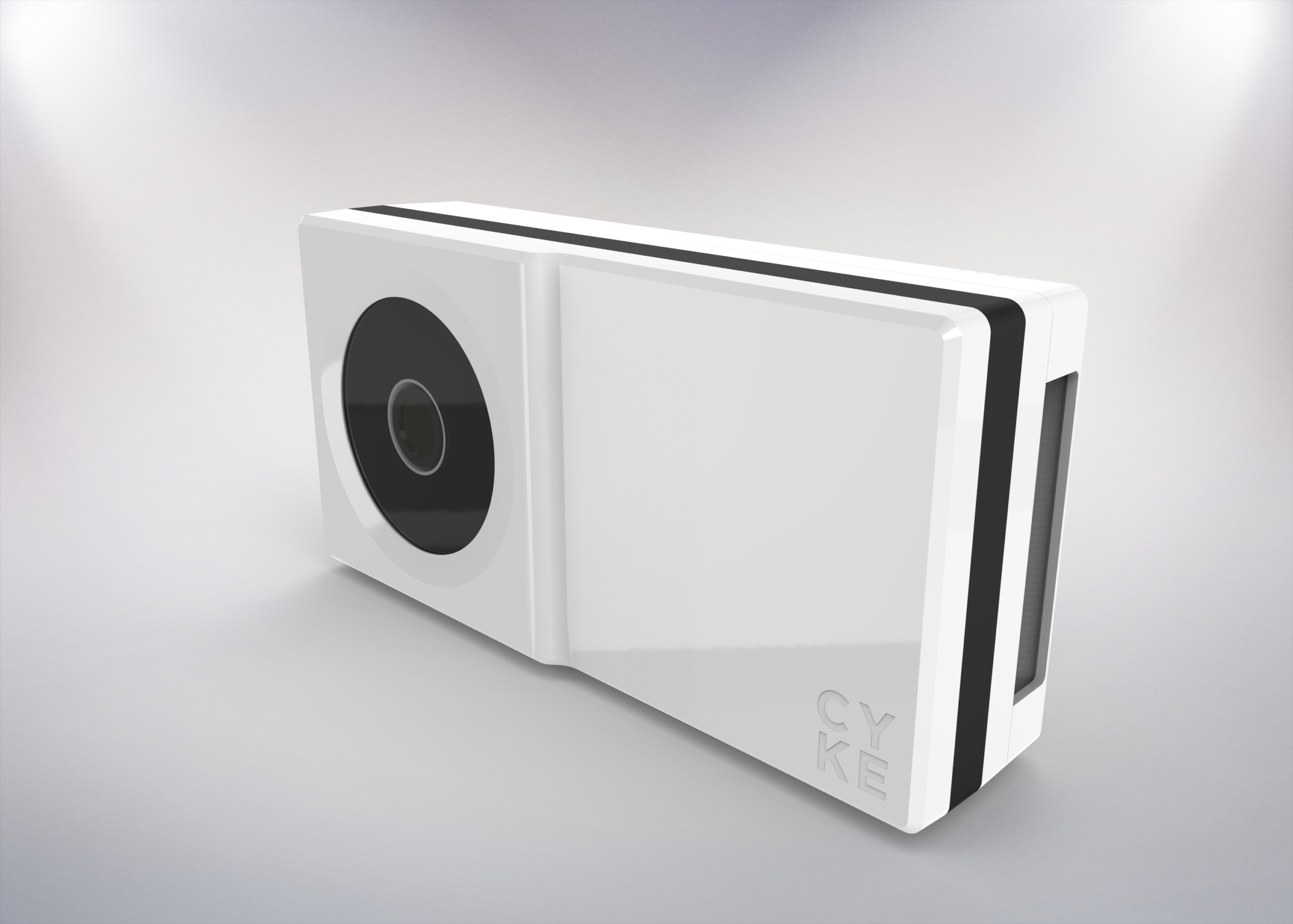 Video Analysis

---

Security anomalies, automated object tracking, intrusion detection, object recognition, can be identified by video analysis algorithms derived from advanced artificial intelligence systems of the Cyke sensor. This tool provides innovative solutions to accurately understand video content.
Edge Computing

---

We provide you with local computing, enabling Artificial Intelligence applications directly on various sensors. It will autonomously process data and algorithms to advanced autonomous applications and low bandwidth applications, it will be cost-effective and highly productive. This is one of the highlighted features of the Cyke sensor. Our edge computing solution is embedded by Coral from google.
 A.I. Solutions

---

For the Cyke we provide different Artificial Intelligence services according to customer needs, our A.I. technologies are easy to implement, easy to support, and have demonstrated excellent results for our customers.
Inferred Illumination

---

The Cyke sensor is equipped with Infrared Illumination which is ideal for dark areas and low illumination zones, offering greater protection and high detection accuracy even during nights or dark zones.
 Cloud Computing

---

The Cyke sensor is equipped with WiFi and LTE module so that when a large set of data is applied to certain algorithms and Machine Learning (ML) models are generated; the computation will be done on the cloud to increase sensor efficiency and performance at higher scales by providing the computation of these models on the cloud.
Sound Analysis

---

The Cyke is designed to detect sirens, gunshots, explosions, and more; it contains the Sound Detection approach incorporates machine learning, signal processing and classification methods.
Road Safety & Urban Security

---

Road Safety Module detects all types of moving violations thought comprehensive monitoring. Our advanced software can detect sudden scene changes, abnormal parking, illegal vehicle overtaking, and illegal U-turns. The Cyke has shown a perfect satisfaction rate for performing this smart city service.
Crowd Analysis

---

The Cyke sensor technology equipped with advanced pattern recognition algorithms to provide automated warnings of anomalous or suspicious behavior (such as leaving bags unattended).
Smart Surveillience

---

The Cyke sensor can be used in urban areas that have always been placed at high risk for public security. For this reason, they are submitted to the classic video surveillance that, being used as a verification tool rather than as a prevention tool, often results in efficiency and intrusive in terms of privacy.
Sound Analysis

---

The Cyke audio event detector can significantly improve the overall reliability of surveillance systems. Our Smart Sound Analysis Module in the Cyke sensor identifies events related to urban security, recognize signals and noises, and perform satisfactorily outcomes for very complex situations.
Industry Safety & Risk Detection

---

Customers can manage an enterprise safety program with the Cyke an AI-enabled sensor. An unsafe work environment costs more than money – it costs employee morale, productivity, and sometimes even lives as well.
COVID - 19

---

Detection of the crowd helps in handling the virus diffusion by reducing the chance of infection. Our A.I. algorithm is capable to find out if the places are densely populated. An immediate alert is then sent to law enforcement. The Cyke is designed to ensure the health and safety of people.
Personal Protective Equipments

---

The Cyke sensor safety suite identifies a wide range of industrial and human-related objects to be able to alert when the interaction or context of the industrial process or environmental factors may reduce quality, incur higher costs or pose an immediate safety risk.
Industry Plant Management

---

The Cyke sensor Industry Plant Management module avoids any mistakes or issues encountered in previous projects. When planning future projects, businesses will be able to better assess timeframes and get more accurate insights into the number of workers and product stock needed to complete projects.
Versions
Each version is designed to provide different services, you can find the specific Model at the table below.
Cyke SA: Cyke Stand Alone (SA) version is the entry sensor version of the Cyke family. This sensor has a LAN connection to allow direct cabling to the local network gateway. Cyke SA is the best fir for Smart Surveillance, Industrial Safety, and Intelligent Parking System..
Cyke FC: Cyke Full Connectivity (FC) version is the extended version equipped with WiFi and LTE modules. It is suitable for areas with no cabled network that require long-range security coverage. Cyke FC sensor is suggested both for Industrial and Urban applications.
Cyke AP: Cyke Advance Optic (AP) version is equipped with WiFi and LTE modules and higher performance optic for better coverage during the day and night. Cyke AP is suitable for areas that require a high-performance camera and details should not be missed, the best fits services for this sensor are License Plate Recognition and Crowd Analysis.
| Model Number | Model Name | Camera | Storage | AI Processor | Communication Module |
| --- | --- | --- | --- | --- | --- |
| CK-ND-SA-xx | Cyke SA | up to 4K | up to 128GB | up to 2 TPU | RJ45 |
| CK-ND-FC-xx | Cyke FC | up to 4K | up to 128GB | up to 2 TPU | WIFI - LTE |
| CK-ND-AP-SA | Cyke AP-SA | 1MP Global Shutter @60fps | up to 128GB | up to 2 TPU | RJ45 |
| CK-ND-AP-FC | Cyke AP-FC | 1MP Global Shutter @60fps | up to 128GB | up to 2 TPU | WIFI - LTE |
Downloadable Contents
Cyke Flyers | Datasheets
To ensure that you are choosing the right model of the Cyke sensor, please find all the specific models and their technical details from the list below. These models are vary base on hardware and software differences.