Product Overview
Cyke represents the evolution of Sense with a great innovation: a very sensitive microphone that is able to detect different sound models. Through a single product, you can benefit from the performance of video and sound analysis. Specifically, Cyke is able to recognize and notify events such as sirens, explosions, gunshots and calls for help.
It offers extensive analysis of the surrounding environment thanks to an enhanced infrared night lighting system and an integrated TPU that enables even faster data processing by A.I. It can work with Edge Computing solution, embedded with Coral from Google. This sensor can provide the highest level of protection against suspected high-risk events in public and crowded areas such as ports, airports, train stations and shopping malls. It can also be applied within the industries.
Application Areas
| | | | | | |
| --- | --- | --- | --- | --- | --- |
| | Intelligent Industries | | Smart Cities | | Smart Retail |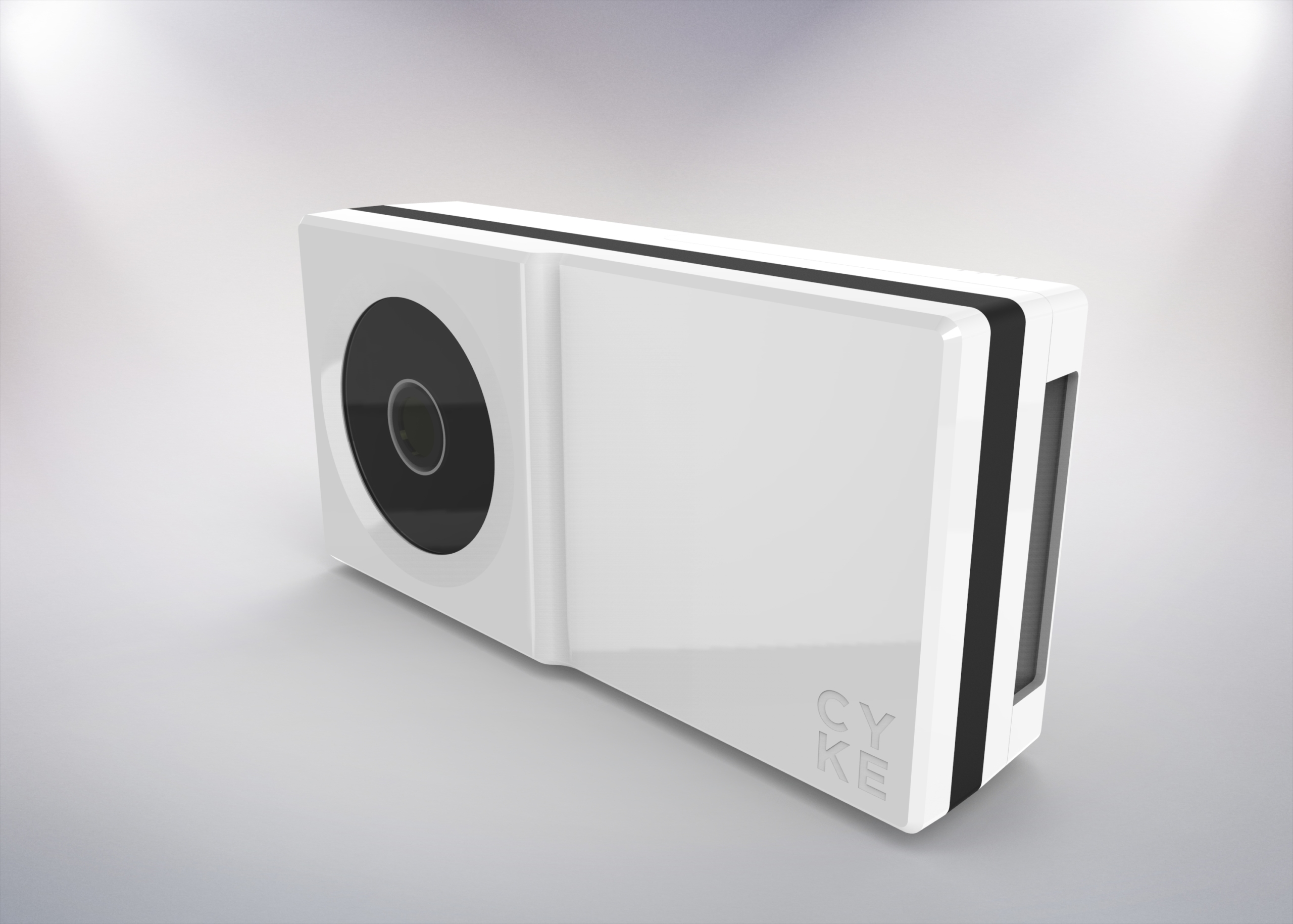 Video Analysis

---

Smart-I products enable innovative solutions for video analysis thanks to the advanced Artificial Intelligence module. In fact, they can analyze, detect and alert in case of anomalies..
Edge Computing

---

A different, high-performance way to handle data is through Edge Computing. We process data directly inside our sensors, minimize latency and increase data protection. Our edge computing solution is embedded by Coral from google.
 Artificial Intelligence

---

We provide innovative and smart services that mix data with advanced algorithms. In this way, video sensors can automatically learn data features and provide excellent results to our Clients.
Infrared Illumination

---

This feature ensures optimal area monitoring even when areas are in low light conditions. It offers great protection and high detection accuracy even during nights or dark zones.
 Cloud Computing

---

All data collected by video sensors can be managed by Cloud Computing. In detail, it manages, stores and processes the data through a remote server. Therefore, the client can access our services, exploiting the computing capacity of our servers.
Sound Analysis

---

Sensors are designed to detect sirens, gunshots, explosions and more. Using sound analysis, audio data can be analyzed, understood and classified.
Road Safety

---

Our advanced products can detect sudden scene changes. In case of abnormal parking, illegal vehicle overtaking and illegal U-turns, notifications will be sent to facilitate immediate action.
Crowd Monitoring

---

Thanks to ultra-modern algorithms, it is possible to track numerous people and detect abnormal or suspicious behavior (such as leaving bags unattended).
AI Surveillance

---

More than just video surveillance. In crowded areas or areas where personal safety is at risk, it is possible to detect people, identify intruders in sensitive areas and take immediate action.
Audio Recognition

---

It can recognize signals and noises, identify events related to urban security and more. So it is essentially valid in case of very complex situations.
Risk Detection

---

Having a safety program in industries is now more critical than ever. Continuous analysis of the plant and detection of hazardous and damaging events are crucial to increased industrial safety.
Personal Protection

---

To ensure the health and safety of people, these services allow for the detection of people, the necessary social distance between them and the proper use of masks.
Worker Safety

---

Workplace safety is critical and mandatory. With these services, our video sensors can detect and alert when workers are without the proper PPE, such as a vest or hat.
Workforce optimization

---

These services provide a clear view of the plant's status by monitoring and diagnosing assets and tracking the progress of activities. This information is useful to avoid any errors or problems for upcoming tasks or projects.
Retail Management

---

These smart services provide retailers with new tools to learn about their customers behavior and create amazing and new shopping experiences for them.
Versions
Each version is designed to provide different services, you can find the specific model and features in the table below.
Cyke SA: Cyke Stand Alone (SA) version is the first sensor version of the Cyke family. This sensor has a LAN connection to allow direct wiring to the local network gateway. Cyke SA is the best solution for Smart Surveillance, Industry Safety and Intelligent Parking System.
Cyke FC: Cyke Full Connectivity (FC) version is the extended version equipped with WiFi and LTE modules. It is ideal for areas without a wired network that require long-range security coverage. Cyke FC sensor is suggested for industrial, urban and shopping areas.
Cyke AP: Cyke Advance Optic (AP) version features WiFi and LTE modules and higher performance optic for better day and night coverage. Cyke AP is suitable for areas that need a high efficient camera with a focus on detail. The services best suited for this sensor are License Plate Recognition and Crowd Analysis.
| Model Number | Model Name | Camera | Storage | AI Processor | Communication Module |
| --- | --- | --- | --- | --- | --- |
| CK-ND-SA-xx | Cyke SA | up to 4K | up to 128GB | up to 2 TPU | RJ45 |
| CK-ND-FC-xx | Cyke FC | up to 4K | up to 128GB | up to 2 TPU | WIFI - LTE |
| CK-ND-AP-SA | Cyke AP-SA | 1MP Global Shutter @60fps | up to 128GB | up to 2 TPU | RJ45 |
| CK-ND-AP-FC | Cyke AP-FC | 1MP Global Shutter @60fps | up to 128GB | up to 2 TPU | WIFI - LTE |
Downloadable Contents
Cyke sensor models vary based on hardware and software differences. To make the right choice, below you can find all the specific models and their technical details.
Cyke Flyers