India: no more overpopulation and pollution thanks to Smart City Mission 
---
India plans to solve the problems of its population with a great smart city project. What will it involve? Let's find out.
India plans to solve the problems of its population with a great smart city project. What will it involve? Let's find out.
Overpopulation and pollution: two problems that are affecting India
---
In recent years, the world population has been growing at an unprecedented rate. In November 2022, the population officially reached 8 billion people.  
This is an achievement that puts us in front of the responsibility to take care of our planet. 
Actually, we are only now getting serious about it. One example, in fact, is 17 Sustainable Development Goals (SDGs).
Another problem related to caring for the planet and the ever-increasing number of people is undoubtedly pollution. Let's get to know these two issues in more detail.
According to the United Nations report "World Population Prospects 2022," there will be major challenges in the coming years especially for the poorest and developing countries. It is in these ones that most of the population is concentrated. 
In addition, China's record of being the most populous country in the world will be taken over by India in 2023. [1] 
However, the Indian country also ranks high in worst air quality. This is due to fine particulate matter in the air that is 40 times higher than the maximum limit specified by the World Health Organization (WHO). [2]
Every year there is a worsening of the air in New Delhi, which can be perceived directly from this image.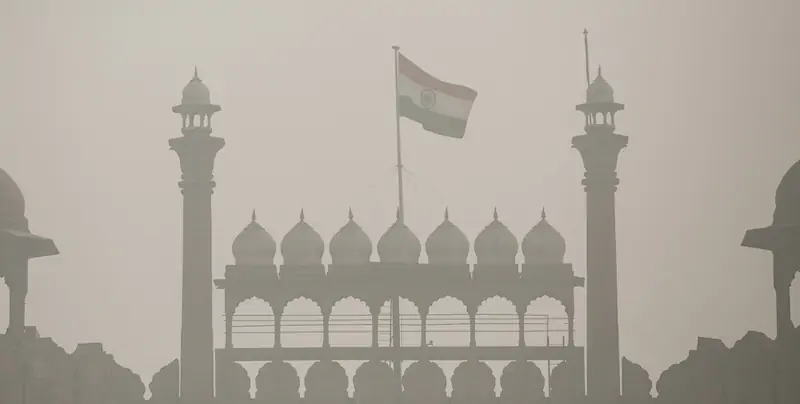 Why does India's air quality reach these levels?
The factors contributing to New Delhi's air pollution are: industrial and vehicle emissions, dust from construction sites, coal-fired power plants and stubble burning in agricultural states.
These, combined with low temperatures mean that a toxic haze, in fact, hangs over India's capital until spring arrives.
This is, unfortunately, nothing new for the city. A study published in Lancet indicated that air pollution in India's capital caused the premature death of 1.67 million people in 2019. [3]
Only when the consequence of a problem has occurred, we look for solutions, although these are often emergency measures. Precisely, oxygen bars have been introduced. They are places created to satisfy the need of Indians to breathe clean air. Let's find out what this is all about.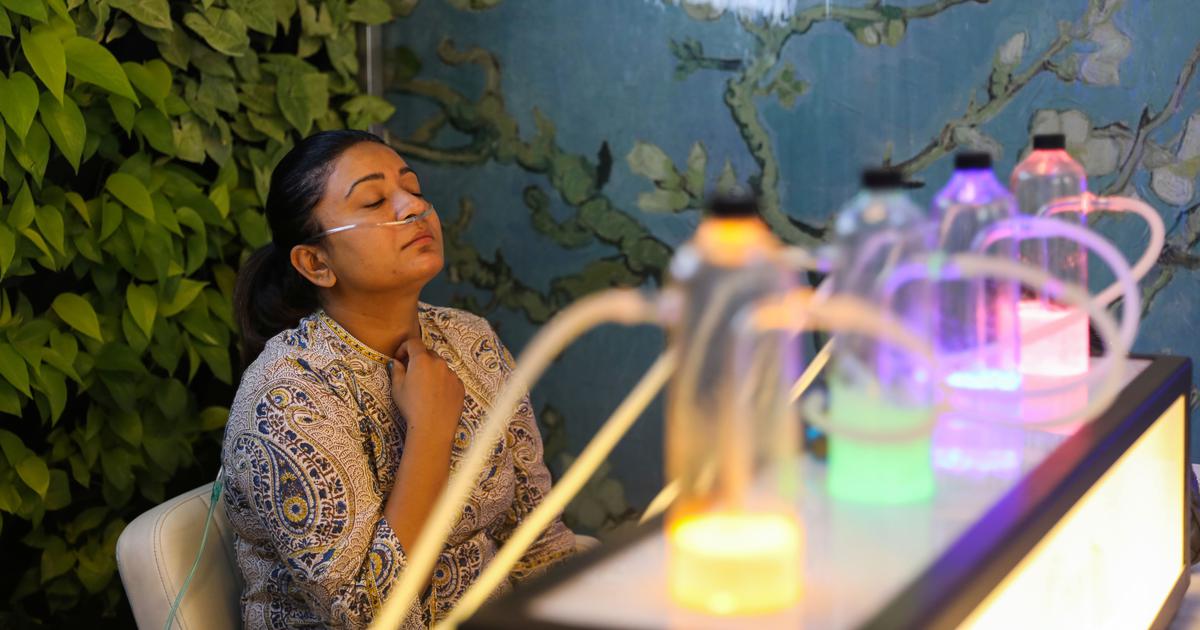 In the oxygen bar, it is possible to inhale 80 to 90 percent pure oxygen for about 15 minutes for the price of about 4 euros. Customers are given a tube, cannula, which is attached under their nostrils and delivers them clean air generated by a machine that purifies the surrounding air.
It seems clear that this is a procedure that can for a very short duration solve the problem.
The authorities have repeatedly announced plans to limit the toxic substances in the air, unfortunately without success. 
The real solution: smart city and latest technologies
---
If India is facing all these issues now, what will happen in the coming years? It is a priority to find definitive solutions to these two big problems.  
The oxygen bar is a temporary way to limit the pollution problem. Moreover, it is not accessible to everyone. It is, therefore, necessary to start from the base of the problem, which is consumption, use and protection of the Country's resources. 
The Indian government should focus on reshaping the city by making it grow in a correct and sustainable way. In short, the real solution is to make the city smart. 
Effectively, smart cities are able to counter the negative external factors typical of urbanization. For example, poor mobility management negatively affects the livability of the city and especially the well-being of citizens. The latest technologies adopted in smart cities, such as Artificial Intelligence and big data, are crucial in enabling the Government to learn about, analyze and improve mobility on Indian roads. 
It is crucial for authorities of this Country to understand that the smart city is an opportunity to improve urban centers and bring citizens and their needs back to the center of attention. In this sense, the smart city becomes that city that, thanks to innovative technologies and especially AI, promotes the participation of people, who become smart people. 
They are included in the design and implementation phases of urban areas addressed to improve the quality of life of those who live there. 
Considering its needs, how will India manage them?
India is ready for new challenges with Smart City Mission
---
India is responding well to new situations that are emerging. Currently, in fact, there are already major smart cities, especially Bhopal. 
Considered one of the greenest cities in India, this smart city has been ranked number one in the Ministry of Housing and Urban Affairs' 2022 ranking.
Bhopal has implemented significant changes in its urban area, such as improving connectivity through solar-powered LED poles with wifi. The Bhopal Plus App was created to assist citizens. In addition, numerous surveillance cameras have been installed to increase security and traffic monitoring. [4]
India, however, is working on a large, new project involving 100 cities. It is an unprecedented program. It is called Smart City Mission, launched in 2015 and expected to complete between 2019 and 2023.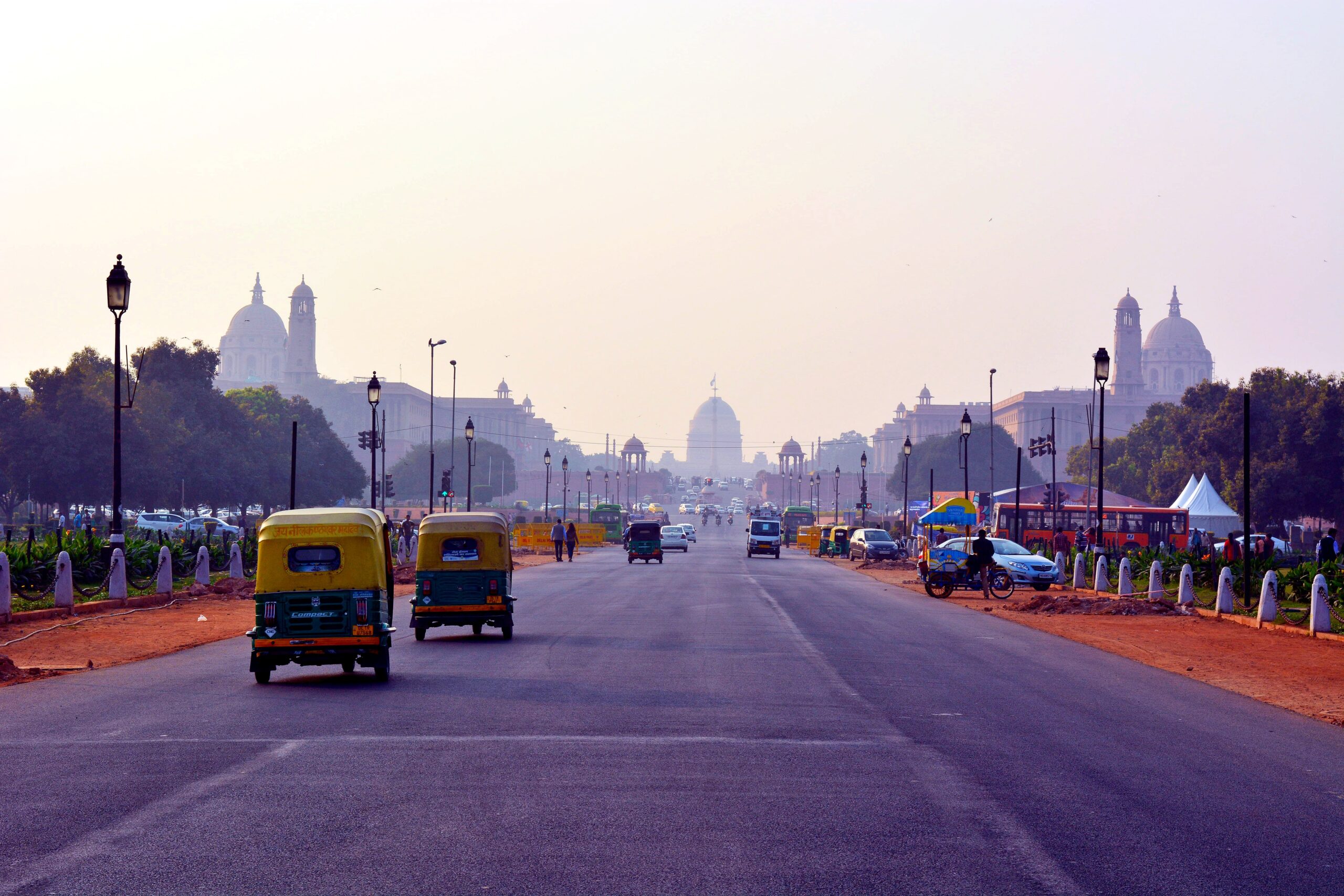 As the urban population increases, the government is looking at smarter ways to manage complexities and improve the quality of life.
The goal of the Smart City Mission is to promote sustainable and inclusive cities that aim to provide a decent quality of life, a clean and sustainable environment through the application of some smart solutions. An example is an intelligent traffic management system that is crucial for reducing average commute time or cost to citizens. 
The application of smart solutions will allow cities to use technology, information and data to improve infrastructure and services. This will improve the quality of life, create jobs and increase income for all citizens.  
Components of development include the improvement and renewal of the city (retrofit and redevelop). In retrofitting, an area of more than 500 acres will be identified by the city in consultation with citizens. Based on the level of existing infrastructure services and residents' vision, cities will prepare a strategy to become smart. In this model, existing facilities will remain largely intact and it is expected that the repurposed Smart City will feature more intensive levels of infrastructure services and a large number of smart applications. Redevelopment will replace the existing built environment and allow co-creation of a new setting with improved infrastructure, using mixed land use and increasing density. This model will include an area of more than 50 acres, identified by urban local governments in consultation with citizens. 
New areas (greenfields) will be developed around cities to accommodate the expanding population in urban areas. Greenfield development will introduce most of the Smart Solutions in a previously vacant area (more than 250 acres) using innovative planning, plan financing and plan implementation tools with provision for affordable housing, especially for the poor. 
A high emphasis will be placed on reducing greenhouse gas emissions to improve air quality. In this way, walkable communities are developed to relieve traffic congestion, clean up the air, conserve resources, foster community connection and improve safety. The road system is built or upgraded to accommodate automobiles and public transportation. [5]
The development paradigm is based on sustainability and inclusiveness, but above all, on the creation of a replicable model that can inspire other cities. After all, the ultimate goal of the smart city is to improve the quality of life of people on earth.
This is undoubtedly a virtuous project that arises from an awareness of people's needs and a real desire for change. We just have to wait for news about it!
---
References:
United Nations. Online version:

https://population.un.org/wpp/

  

IQAir. Online version:

https://www.iqair.com/in-en/india

 

The Lancet. Online version:

https://www.thelancet.com/journals/lanplh/article/PIIS2542-5196(20)30298-9/fulltext

 

Ministry of Housing and urban affairs. Online version:

https://mohua.gov.in/

 

Ministry of Urban Development Government of India. Online version:

https://smartcities.gov.in/sites/default/files/SmartCityGuidelines.pdf
---
© Copyright 2012 – 2023 | All Rights Reserved
---
Author: Rossana Cascione, Digital Marketing Specialist